Looking for a fast, easy and convenient way to donate land to charity? Look no further. Recreational, Residential – Home Site Lot Donations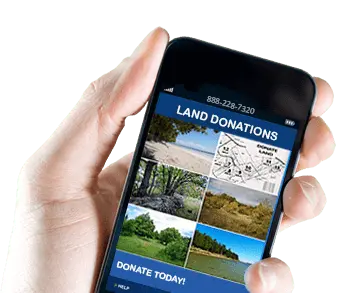 Land Donations to Charity
Real Estate with Causes land donation process is fast, easy and convenient! Your land donation can be recreational, agricultural, residential, commercial or mixed use acreage and we offer a current market value tax deduction to all qualified donors. You can donate land anywhere throughout the United States and Canada and free yourself from a financially burdensome property holding while helping those in need.
Selling Unwanted Land? Here's a Better Alternative!
In many circumstances, selling is not ideal for unwanted property due to the many costs involved that may outweigh the actual land worth. Because of this, many people hold on to their unused land for lack of a better alternative, continue paying property taxes, maintenance and upkeep costs, (list goes on as you know) without ever seeing a return on their investment.
Rather than holding on to land you do not want, donate land to Real Estate with Causes and reap the rewards of helping the families and worthy causes we support and a claim a Current Market Value Tax Deduction.
To donate land – Call 888-228-7320 or Complete The Following Land Donation Form
Examples of Land Donation to our Charity:
Understand Land Use Specifics

Residential land donations are pretty self explanatory. Land that is used to build single family homes, cabins, condominiums or apartment complexes. Any land, parcel, rural lot, plot, tract or acre of land that will be used for owner-occupied housing or tenant accommodation is residential land. 
Commercial land donation is land that is designated for business and commerce and important for the economy of villages, towns and cities. Commercial land is usually developed for warehouses, office buildings, campgrounds, restaurants, nurseries, mobile home parks, vineyards, golf courses, eco-tourism, marinas and shops to name a few. We specialize in commercial property donations and commercial lots and invite you to contact us to learn more!
Recreational land donation is defined as land that is meant to be used for the enjoyment of the people who use it. It usually means you can not build or live there in a camper (No buildings), for more than a few days. The only allowed use is recreational and what that entails can vary depending on the state and local laws, but usually include hunting, fishing, camping and riding ATV's. Recreational tracts usually include private hunting clubs targeting deer and turkey, private lakes with exceptional fishing, weekend camping getaways, and land that is near trails for snow machines and ATV's to ride for miles. 
Agricultural land donations are used for the growing and harvesting of crops, timber and livestock. These are things like orchards, ranches, farms, hardwoods and pastures. We have an entire page devoted to farmland donations so you can educate yourself further.
Looking for more ways to
help out
support
those in need?
You may want to consider some of these charitable giving ideas also!
Donate Real Estate and Support some Very Worthy Causes!